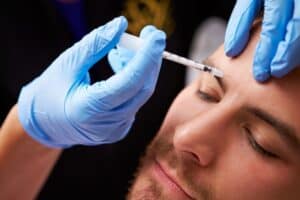 Women aren't the only people on the planet wanting to restore a youthful appearance. Men look in the mirror and wonder where that younger guy without such deep lines and wrinkles went. Botox, perhaps the best-known of the non-invasive procedures for facial rejuvenation, can restore that earlier reflection. Board-certified Miami plastic surgeon Dr. Ary Krau explains the benefits of Botox for men.
Botox for Men
It's a jungle out there. Botox can make you appear well-rested rather than stressed. Looking younger can give you a competitive edge in the workplace. With so much of life now revolving around social media, it's critical to look your best in photos.
The forehead is one of the top Botox injection sites for men. Not only do injections here reduce deep lines and wrinkles, they also may offer relief for men suffering from migraines.
Jowls become apparent as men age. All that sagging makes you look older, but Botox injections can tighten and lift the jaw. A firmer jaw looks more attractive and masculine. Botox allows men to achieve a chiseled jawline without the need for extensive exercise or surgery.
The face reflects a lot of time spent outdoors. Squint lines show up even for those careful to wear sunglasses. Botox hides these lines and makes the eye area look less weather-beaten.
Gradual Changes
Keep in mind that Botox disguises wrinkles by paralyzing small muscles in the face. Make gradual changes, so that wrinkle eradication looks natural. No one wants a "frozen" look, and that fear is one that keeps some men from considering Botox. When the procedure is performed by a top plastic surgeon, there is no need to worry about looking unnatural.
Start by focusing on the lines and wrinkles that bother you the most. Have more work done on later appointments.
Increased Self Confidence
Knowing you look your best increases confidence. That quality affects many other aspects of your life, from the personal to the professional.
If you're feeling less self-confident later because you're concerned about looking old, Botox can provide you with an emotional and mental boost.
No Downtime
Lead a busy life? One great benefit of Botox is that there's absolutely no downtime. After your appointment, pursue your normal activities. Other types of facial rejuvenation, including cosmetic surgery, can require considerable time off work and pose limitations during recuperation.
Botox touch-ups are necessary about every three months. The longer Botox is used, the more time you can take between appointments.
Contact Dr. Krau for More Information
To learn more about how Botox benefits men and learn if it is appropriate for your needs, please schedule a consultation with Dr. Krau. Contact his Miami office by calling (305) 861-6881 or emailing us today.