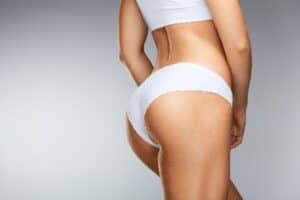 There are many ways to look toned and curvy in all the right places. Patients in the Bay Harbor area know they can visit Dr. Ary Krau to discuss their desired appearance and surgical options to achieve those results. If your backside is a problem area, Dr. Krau offers Brazilian butt lift surgery to enhance your buttocks and provide you with the silhouette you've always wanted.
Am I a Good Candidate for Brazilian Butt Lift?
Many people seek Brazilian butt lift procedures, but your candidacy depends on your body goals and general health, among other things.
Overall health: As with other procedures, your general health is one of the most important factors. Good health supports a smooth recovery. Certain medical conditions can impact your results or can even be made worse after undergoing cosmetic surgery. Dr. Krau will conduct a full evaluation of your health, current medications, and body goals to determine if you are a good candidate.
Small buttocks: Genetics can play a large role in the shape of your body. If you have a small backside or one that has become flattened due to weight loss, age, or other factors, you may be self-conscious about your proportions. A targeted procedure such as the Brazilian butt lift may be right for you.
Not seeing improvement from exercise and diet: While maintaining a healthy diet and exercise routine is important, it may not be helpful for increasing your buttocks. There are indeed targeted exercises that are designed to increase the size of certain muscle groups. However, if you are seeking a significant change in the appearance of your backside and your lifestyle choices have not delivered the desired results, you may be a good fit for this procedure.
Enough body fat for a transfer: Brazilian butt lift uses fat transfer to help you achieve the most natural-looking results. To be considered a good candidate, you must have enough fat to transfer from another area of your body to your buttocks.
Realistic expectations: The Brazilian butt lift you undergo with Dr. Krau will improve your body's proportions while increasing the volume of your buttocks. The procedure is intended to leave you with natural-looking results. If you are seeking a different or more exaggerated result, speak to Dr. Krau about alternatives.
BBL in Bay Harbor Islands
Don't put off your dream body any longer. If you have been considering having a Brazilian butt lift procedure to improve the size and shape of your buttocks, contact the top plastic surgeon in Bay Harbor Islands for a consultation by calling (305) 861-6881 or booking a consultation online.