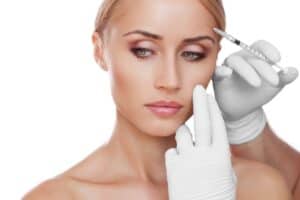 Botox is one of the most popular non-surgical facial rejuvenation procedures Dr. Ary Krau and our team perform — and for good reason! The quick treatment can relax visible wrinkles and create smoother, more youthful-looking skin with few side effects and virtually no recovery.
If you are interested in getting Botox for the first time, Dr. Krau shares three important things to know.
1. Finding the right provider is critical.
Botox is a medical procedure and should only be performed by a physician or an injector under the supervision of a physician. Dr. Krau and our team are highly trained to ensure the safety of every Botox treatment we perform. We have extensive knowledge of facial anatomy and understand precisely where to place Botox injections for the most natural-looking results. We want you to look like yourself (but a more refreshed version of yourself!).
Because we offer a full spectrum of minimally invasive procedures and skin care, we can determine what is best for your anti-aging needs. If you need more advanced or lasting treatment options, we will be candid with you about alternatives that are better suited to your goals.
Also, we get our Botox directly from the manufacturer (Allergan) or distributors authorized by Allergan, so you never have to worry about getting an expired or contaminated product.
2. Some things are off-limits right after Botox.
Although there is no recovery downtime after Botox, your injector will ask you to refrain from certain activities. For example, you will be asked to keep your head elevated for a few hours after treatment. You should not massage the treated area for at least 24 hours after treatment (which may mean avoiding the application of some cosmetic and skin care products that you have to scrub or work into the skin). It is best to refrain from strenuous exercise, alcohol consumption and hot tubs or saunas for the remainder of the day of your treatment.
3. The results don't last forever.
Botox is an incredible product, but the results don't last forever. For most patients, the effects of the injections last three to four months. If you wish to keep up the wrinkle-reducing effects of Botox, plan for repeat treatments.
Moreover, don't expect your results to appear right away. Usually it takes a few days up to a week to realize the full effects of treatment.
Schedule a Botox Appointment at Our Practice
If you would like more information about the anti-aging benefits of Botox injections, or if you would like to set up a consultation, Dr. Krau and our team invite you to call or email us today.