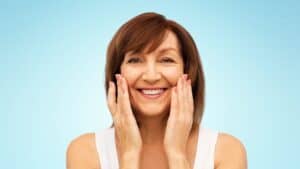 It is completely normal to feel discouraged by noticeable signs of facial aging. Luckily, you do not have to resort to covering up with big sunglasses or hats. You have a bevy of treatment options at your disposal to help you age more gracefully.
Dr. Ary Krau is known throughout the Miami area and beyond for his experience in facial rejuvenation procedures, including brow lift. In this post, he explains exactly what cosmetic changes are possible with brow lift surgery.
Elevated Brow Position
Are low, heavy brows to blame for your uncharacteristically sad, tired or agitated expression? Lifting the brows only a few millimeters can help. Brow lift can also improve the look of flat brows lacking any arch. Creating a soft brow arch can give your entire face a more youthful expression.
These precise improvements can be made through incisions hidden in your natural hairline. Scarring is hardly noticeable, thanks to Dr. Krau's discreet incision placement.
With his expert surgical skill and experience, Dr. Krau will ensure that your new brow position looks natural and relaxed — never artificial or frozen. No patient wants to look perpetually startled after cosmetic surgery.
More Open Eye Shape
Brow lift may be particularly beneficial if low or droopy brows are making your eyes appear smaller than they really are, or "hooded." Although brow lift is not intended specifically to change the eyes' shape, by elevating the brows' position, the surgery can make your eyes appear more open and well rested. Others will surely notice how warm and approachable you look after brow lift!
Smoother Forehead
Brow lift, which is sometimes referred to as forehead lift, is ideal for smoothing wrinkled, creased forehead skin. After tweaking the underlying tissues and muscles, Dr. Krau can re-drape your forehead skin smoothly to relax deep-set lines.
Relaxed Glabellar Lines
Another problem easily remedied with brow lift is that of glabellar lines, or vertical furrows that may appear in the skin between your brows right above the bridge of your nose. The surgical modifications made during brow lift gently relax noticeable glabellar furrows and lines.
Book Your Brow Lift Consultation Today
Brow lift is one of Miami plastic surgeon Ary Krau's specialties. Patients come from all over requesting Dr. Krau's help attaining a refreshed, rested look.
If you are ready to shed an unintentionally tired or angry facial expression with brow lift, take the first step by scheduling a consultation with Dr. Krau. Call or email us today to arrange your appointment.