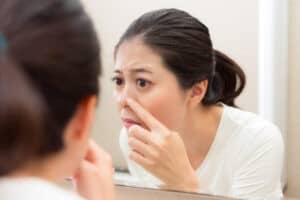 Are you dissatisfied with the appearance of your nose? Do you worry that your nose doesn't complement the rest of your face? If the answer to these questions is yes, then you may already be considering plastic surgery to make your desired modifications. Before you can schedule rhinoplasty, you must sit down face-to-face with a plastic surgeon to discuss the procedure. This meeting is known as a consultation.
Dr. Ary Krau, an award-winning plastic surgeon in Miami, explains what you should discuss with a surgeon during your consultation for rhinoplasty.
Your Medical History
To confirm whether you are a good candidate for rhinoplasty, the surgeon needs to verify that you are in good enough health to undergo an elective surgery. This also involves reviewing your prescriptions, as certain medications may preclude you from this procedure. Coming prepared with all relevant information will expedite the consultation process.
The Surgeon's Qualifications
Your consultation is the best opportunity to interview the surgeon and decide if he or she is the right choice. You have every right to ask about the surgeon's education, training and years of experience to ascertain their qualifications. Request to see before-and-after photographs of the surgeon's previous work to confirm that the results are impressive and appealing.
With rhinoplasty, it is especially important to find someone with significant rhinoplasty experience. Not many plastic surgeons perform this surgery often, in part because it is considered one of the most complicated procedures from a technical standpoint. Therefore, you do not want to choose a less-experienced surgeon to perform rhinoplasty.
Your Goals
Rhinoplasty is a highly customizable surgery — no two nose jobs are exactly alike. Come prepared to share the specific characteristics of your nose that you would like to change. It can help to bring photos of noses you like as reference. From there, the surgeon can help you to set reasonable expectations about what rhinoplasty can achieve and devise a treatment plan that best accomplishes these goals.
Procedure Details and Recovery Tips
If, during your consultation, you feel at ease with the surgeon and decide you want to schedule the surgery, then it is necessary to discuss surgical details like anesthesia and approach (specifically open vs. closed rhinoplasty). You also want to start gathering information on the recovery process, such as how many days you will need to take off from work and which supplies you need to have on hand at home.
Schedule a Consultation with Dr. Krau
Dr. Krau maintains a personable yet professional demeanor when meeting with prospective patients. He has decades of experience performing rhinoplasty and is happy to show proof of his technique and expertise. To schedule a consultation with Dr. Krau for nose reshaping, please call (305) 861-6881.