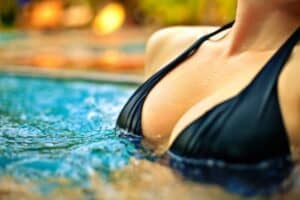 Among the top concerns that many breast augmentation patients have is whether their results will look fake. These patients desire a modest boost in breast size and results that are natural-looking, instead of breasts that are oversized and obviously augmented. Dr. Ary Krau is the breast enhancement surgeon women trust for safe, aesthetically pleasing and natural-looking results in Miami. Here, he shares tips on how to select implants that look naturally beautiful.
Work with an Experienced and Skilled Plastic Surgeon
The key to natural-looking breast implants is working with a plastic surgeon who possesses years of experience and excellent technical skill. Your surgeon should have performed hundreds of breast enhancement procedures. If you are considering combining breast augmentation with breast lift, make sure to select a surgeon who has specific experience performing combination procedures.
It is always a good idea to browse through your surgeon's before-and-after galleries of past breast augmentation patients. Pay special attention to whether your surgeon produces natural-looking results consistently and utilizes an advanced incision technique that produces minimal scarring.
Consider Your Body Frame and Skin Quality
Augmented breasts that are proportionate to the patient's waist, hips and chest frame offer the most natural-looking results. When selecting your breast implants, refrain from going too big, as overly large breast implants can make you look "top heavy." Skin elasticity is another important factor to consider. A woman with very thin skin and little breast tissue cannot properly support overly large breast implants.
Understand Your Options for Breast Enhancement
Here are a few general considerations:
Silicone gel vs. saline: Most patients agree that silicone gel implants feel more similar to natural breast tissue than saline implants. However, each type has advantages and disadvantages, which your surgeon should discuss with you thoroughly before helping you make your decision.
Tear drop vs. round: Round implants have equal projection on top and bottom, whereas tear drop implants, also known as anatomically-shaped implants, have more projection on the bottom than the top, mimicking the sloped curve of a natural breast.
Breast augmentation with fat transfer: Breast augmentation with fat transfer is an increasingly popular choice for women who desire a subtle boost in breast size and natural-looking results. The procedure uses donor fat from one area on the patient's body to augment the breasts. Results are very natural-looking because only the patient's natural tissue is used. In addition, the procedure is completely hypoallergenic and less invasive than traditional breast augmentation.
Schedule a Consultation with Dr. Krau
To discuss your breast enhancement results with Dr. Krau, schedule a personal consultation. Contact his Miami plastic surgery practice by calling (305) 861-6881 or emailing us today.