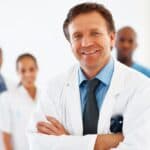 While many patients focus on the type of procedure they want and the reputation of their surgeon, patients should also research the type of facility where their procedure will take place — and whether that facility is accredited.
Surgeons who perform procedures in a non-accredited facility are often trying to reduce costs. This should be a red flag for patients. A desire to work in a sub-standard facility could indicate that a surgeon's credentials are not up-to-date, or that his or her privileges have been suspended at an accredited surgery center. It is possible that this has resulted from medical errors or behavior issues.
Dr. Ary Krau, who has performed thousands of procedures in his facility, which is fully accredited by the state of Florida, strongly advises that patients do not put themselves at risk with regard to the type of facility they choose. Below he discusses the importance of accreditation and how the accreditation process works.
Requirements for Surgical Facility Accreditation
The American Society of Plastic Surgeons (ASPS) requires that member surgeons perform procedures in a facility that meets established standards for quality and safety. An accredited facility must meet national standards for equipment, safety, personnel and surgeon credentials, including the following:
A rate of complications less than one-half of 1 percent
An extremely low mortality rate (less than 1 in 57,000)
Lower costs than average
Procedures and Accreditation
In addition to the facilities, all procedures (other than those requiring only local anesthetic and/or mild oral sedation,) performed in an accredited facility must be possess one of the following:
A license from the state in which the facility operates
Accreditation from the American Association for Accreditation of Ambulatory Surgery Facilities (AAAASF)
Accreditation from the Accreditation Association for Ambulatory Health Care (AAAHC)
Accreditation from the Joint Commission on Accreditation of Healthcare Organizations
Certification to participate in the Medicare program under Title XVIII
Certifying Bodies
There are three bodies that certify surgery centers in the United States:
For answers to any questions about accreditation or any of your cosmetic surgery needs, please call Dr. Krau at (305) 861-6881 to schedule an appointment.