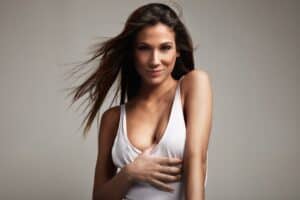 In the right hands and with the right patients, liposuction is the supreme solution to unsightly pockets of excess body fat. Although liposuction techniques and technology have evolved considerably since its inception, it is one of the most challenging plastic surgery procedures. To deliver good results, the liposuction surgeon must demonstrate technical excellence, an extensive understanding of anatomy and artistic vision.
Fortunately, Dr. Ary Krau welcomes the challenge and enjoys exceeding his patients' aesthetic expectations of what liposuction can do. Read on as he shares some of the secrets to delivering the best liposuction results.
Judicious Approach to Removing Fat
The best liposuction surgeons understand that liposuction isn't just about how much fat is removed, but also how much fat is left. There are certain areas of the body, like the abdomen, that should never look completely flat; a toned, attractive abdomen has natural peaks and valleys. In addition, being too aggressive with fat removal can leave divots or surface irregularities.
Dr. Krau views liposuction as a means of sculpting the body rather than simply removing a lot of fat. He has studied the human form extensively and has a strong artistic vision. Dr. Krau works meticulously and thoughtfully to give patients smooth curves that look balanced and symmetrical.
Discreet Scars That Fade Well
Unlike other body contouring procedures, liposuction does not require long incisions. However, a suction-enabled device called a cannula must be inserted under the skin to access and remove the unwanted fat. If the openings for the cannula are carelessly placed or too big, it could result in conspicuous marks or scars.
Dr. Krau is very careful about placing skin openings in natural transitions of the skin or in parts that can be covered by undergarments or a bathing suit. Whenever possible, he uses very small cannulas, which require smaller openings and produce smaller marks that fade well and disappear with time.
Elastic Skin for a Smooth Result
As Dr. Krau pointed out in his last blog post, there is little benefit to removing body fat if the skin won't lay taut over the newly contoured area. This is why he carefully screens candidates prior to surgery, perhaps using the "pinch test," to gauge the quality of the skin. If the skin doesn't quickly bounce back after a quick pinch, it is not likely to sufficiently retract after liposuction and the patient probably won't be satisfied with the results. Another body contouring procedure, such as abdominoplasty, arm lift or thigh lift, may be the better solution.
Your Best Body With Liposuction
Dr. Krau would love to explain how liposuction can help you get the fit, well-defined physique you desire. To request a consultation with him, please call or email our office today.