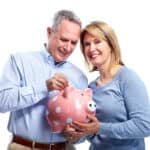 In April, Forbes.com reported that the IRS had already issued $228.780 billion in tax refunds — an average of $2,798 per taxpayer. Nearly half of all refund recipients that filled out the National Retail Federation's annual Tax Returns Survey said they planned to spend the money on a splurge instead of saving it. And of those that planned to spend it, a surprising number said they wanted to put the money toward plastic surgery. Will you be one of them?
If you have always wanted to address a part of your appearance but were held back because of financial issues, receiving a tax refund is an excellent opportunity. Here, Dr. Ary Krau shares a few ways to use the money.
What to Do with a Small Tax Refund
If your cosmetic needs are simple, you don't have to spend thousands of dollars on a surgical procedure. To smooth noticeable facial wrinkles and creases that make you look tired or prematurely aged, take a couple hundred dollars from your tax refund and put it toward treatment with Botox or dermal fillers. Several well-placed injections can minimize wrinkles and fill in facial folds and creases, making you look rested and youthful. Keep in mind that results are temporary, so you need to plan for future treatments to maintain the effects.
What to Do with a Medium Tax Refund
Let's say you've spent years feeling self-conscious of a small bust and avoid wearing low-cut tops or bathing suits. Now, you're expecting a healthy refund check and want to do something that makes you feel beautiful. Depending on the specific procedure and type of implants used, a few thousand dollars can fund part or all of your breast augmentation operation. Don't waste any more time feeling bad about your small chest — spend your refund on something you can enjoy for years to come.
What to Do with a Large Tax Refund
Are you looking forward to a robust refund? You have the opportunity to pursue the plastic surgery procedure of your dreams! Think about your long-term body, breast or face goals.
Embarrassed by a large or crooked nose? Consider rhinoplasty with our leading Miami rhinoplasty surgeon.
Unable to lose that stubborn pocket of fat on your thighs or abdomen? Look into liposuction.
Longing for your pre-baby body? Mommy makeover can totally transform your physique.
If you would like to discuss your particular area(s) of concern and cosmetic treatment goals with Dr. Krau, please call (305) 861-6881 to schedule a private consultation.