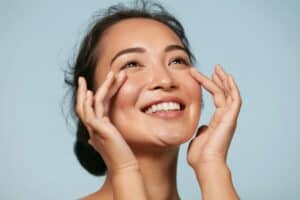 Plump, rounded cheeks are a hallmark feature of a youthful, vibrant face. Unfortunately, the aging process robs us of collagen and fat in the midface area. Without structural support, cheeks can look hollow or sunken in.
If you have lost cheek volume with age, or are naturally thin and concerned about angular facial features, consider getting cosmetic dermal filler injections with Dr. Ary Krau and our team.
We use Voluma, a cheek filler from the tried-and-true Juvéderm family of products. This hyaluronic acid-based filler is the first filler approved by the FDA for cheek enhancement. When administered by an experienced injector, Voluma sculpts beautiful cheeks and lifts the cheekbones. Side effects are minimal and the results can last up to two years.
Look a Lot Younger With a Little Voluma
Voluma can be administered during a short office visit. The first step is for the injector to evaluate your natural facial anatomy and note the areas of your midface that you would like to improve. For example, maybe you want higher, more prominent cheekbones or greater fullness around the apples or apex of your cheeks.
Prior to the injections, your face will be numbed with ice or a topical cream to make the process more comfortable.
Then, the injector will strategically place the Voluma injections, depending on where you need volume and lift. You may receive a few injections in the apples of your cheeks or on the high points of your cheekbones. As an added benefit, the volume from the filler can lift and soften visible nasolabial folds and marionette lines around your mouth and chin.
You should be able to see slight improvements almost immediately after the injections. Initially, the results may look a little sharp or angular; rest assured that over the next few days and weeks, those angles will soften and your cheeks will look plump and beautiful.
How Long Does Voluma Cheek Filler Last?
Like other Juvéderm fillers, Voluma is formulated with a proprietary crosslinking technology called Vycross. This feature allows for a filler that is highly moldable for natural-looking results; it is also designed to make Voluma last longer than other cheek fillers. Thanks to Vycross technology, you can enjoy your Voluma results for up to two years.
Contact Us Today
If you are interested in plumping up your cheeks or defining your cheekbones with a minimally invasive solution, Voluma may be right for you. To find out more, contact the Miami plastic surgery practice of Dr. Ary Krau today.