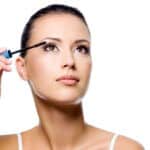 Women use cosmetics to enhance their best features and downplay their flaws. But makeup can be a double-edged sword. If not applied properly, it can actually accentuate imperfections, especially the signs of aging. Suddenly, the products that made you beautiful are actually making you look older.
Here, Miami plastic surgeon Dr. Ary Krau discusses some common makeup mistakes that might be aging you. He also shares possible solutions.
Your lipstick calls attention to lip or laugh lines.
Bright or dark lipstick shades can call attention to lines around the mouth. Also, as the border of the lips softens with age, lipstick can bleed or smear around the mouth.
Solutions: Lip liner pencils can help define the edges of the lips, and a softer shade of lipstick is typically more flattering. A more effective solution is to enhance the lips and smooth creases around the mouth with an injectable dermal filler product.
Foundation or powder settles into your wrinkles.
Using a heavy hand to apply foundation or powder can cause the product to settle into wrinkles and fine lines. The effect is even worse if the product doesn't match your skin tone.
Solutions: Check with a professional makeup artist to ensure your face products suit the color and tone of your skin. Use a tiny bit of moisturizer to sheer out the foundation. Treatment with Dr. Krau can also help smooth your face's "canvas" so your makeup goes on more smoothly. He can use Botox or injectable filler to fill in forehead creases, lines between the eyebrows and nasolabial folds.
Your concealer makes the skin look dry and cracked.
Concealer is a tricky product. It should minimize the appearance of dark circles or brown spots, but it often makes the skin look dry and cracked, highlighting the problematic areas.
Solutions: Use a "luminizing" product, which should make the skin look radiant. And, talk to Dr. Krau about a treatment for brown spots. Fraxel laser skin resurfacing can lighten brown spots for an even skin tone.
Eyeliner draws attention to your droopy eyelids.
Eyeliner should define the eyes and enhance their beauty, but it isn't very helpful to aged, droopy eyelids. Also, many women apply liner to the lower lids only, making them look smaller and "bottom-heavy."
Solutions: Use a soft eyeliner pencil on both the upper and lower lids. Or, for an even subtler result, use a dark eye shadow applied with an angled brush. If you have significant sagging in your lower or upper eyelids, ask Dr. Krau to explain how eyelid surgery can help.
Look Like a Younger Version of Yourself
For more information about any of the anti-aging procedures mentioned in this post, please contact Dr. Krau and schedule a consultation. Call (305) 861-6881 to make an appointment with the doctor.