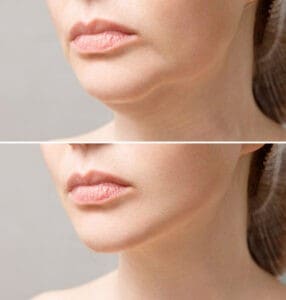 Small areas of stubborn fat can make you appear much heavier than your actual size. Whether you struggle with underarm fat, a bra bulge, or a double chin, small-volume liposuction can improve your body contour with minimal fat removal. Low-volume, high-impact liposuction, or mini lipo, can revitalize your figure with less recovery and risks than large-volume liposuction. Dr. Ary Krau in Miami can fine-tune your appearance with mini liposuction.
Treatment Areas for Mini Liposuction
Small-volume liposuction sculpts specific areas of the face and body, such as the elbows, knees, armpits, and under the chin. These body parts are challenging to target with exercise and are primarily determined by your genetics and unique fat distribution. Some people may be predisposed to submental fullness (double chin), while others may have a sloping neck profile, and these fat pockets can make you appear heavier.
Women may have an armpit bulge or stubborn fat in front of the underarm, and reducing this area with mini liposuction can enhance the breast's appearance. Likewise, the bra bulge may stick out around your bra band and affect your clothing choices and comfort level. Small-volume liposuction for a bra bulge can allow you to wear more fitted tops without fat spilling out.
Men and women may also have small pockets of fat above their elbows and inside their knees. Liposuction in these areas can cause a dramatic change in arm or leg appearance. "Cankles" caused by excess fat are another treatable concern with mini liposuction. Dr. Krau may recommend liposuction of the ankle, inner knee, and thigh for full leg recontouring.
Benefits of Small-Volume Liposuction
Mini liposuction is less intensive than large-volume liposuction and often requires only local anesthetic. You can be awake for the procedure and minimize the surgical risks associated with general anesthesia. Mini liposuction is a faster and more convenient procedure, and the removed fat cells can be used for facial fat grafting to restore volume to the cheeks and other areas of the face.
Candidates for Mini Liposuction
Liposuction is not a weight loss procedure. Patients need to have healthy lifestyles with balanced diets and regular exercise. If you recently lost a lot of weight, you may need to wait six months to a year to ensure you can maintain your results. Generally, people interested in mini liposuction have small pockets of unwanted fat and are in good overall health. You should have realistic goals and a positive outlook for what small-volume liposuction can do for your face and body.
If you're interested in mini liposuction, contact Dr. Krau in Bay Harbor Islands, Florida. Schedule a consultation with our board-certified plastic surgeon by calling (305) 861-6881.