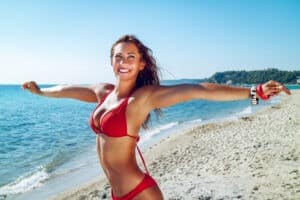 When it comes to picking the plastic surgeon for your fat removal procedure, there are some considerations you should keep in mind during your search and consultation. Many surgeons in the Miami area perform liposuction and other plastic surgeries. Dr. Ary Krau is board-certified by the American Board of Plastic Surgery (ABPS) and was voted Best Plastic Surgeon of Miami by New Times.
What Board-Certification Means in a Plastic Surgeon
The ABPS requires physicians to complete additional training and written and oral exams to earn the prestigious credential. They must graduate from an accredited medical school and have at least six years of surgical training, three of those years spent in the plastic surgery specialty. The process takes several months and a commitment to patient safety and continuing medical education. Board-certified plastic surgeons are required to re-certify every 10 years and can only perform procedures at an accredited surgical facility.
Plastic Surgeon vs. Cosmetic Surgeon
There is a critical distinction between plastic surgeons and cosmetic surgeons. The American Board of Medical Specialties recognizes 40 specialty boards and 87 sub-specialty organizations, none of which include cosmetic surgery per se. Plastic surgeons are held to higher standards and have an intricate understanding of reconstruction. They are trained to handle any complication that may arise during your liposuction or another procedure.
Dr. Krau is board-certified, and his Miami surgical facility is fully accredited by the State of Florida. His overnight suite offers extra attention to patients, and he is known for his dedication to patients at all hours.
Patient Testimonials and Photo Galleries
Before you consult with a plastic surgeon, do your research by reading patient reviews, watching testimonials and looking over the before and after gallery. You can get an idea of what you can expect for your liposuction results by viewing images of patients with your body type. Liposuction is customized to your needs and is often used to get rid of unwanted fat in the abdomen, waist, hips, thighs and other stubborn areas.
Your Liposuction Consultation
Come to your consultation at our Miami office with a list of questions, such as what you can expect during recovery. Dr. Krau sees his patients through the entire liposuction process from your first consultation to your final post-op visit. He will help you determine if liposuction is the best procedure for your cosmetic goals and discuss your options. Candidates for liposuction should be within 10-20 pounds of their ideal weight with realistic expectations and in good overall health.
Schedule your consultation with our board-certified plastic surgeon today by calling or emailing our Miami office.