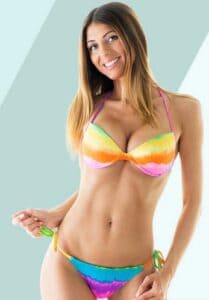 If you are considering undergoing breast augmentation surgery, you are most likely wondering what the procedure costs are out the door. The final cost of the procedure varies by patient, depending on several factors, including the type of breast implant chosen and if an adjunct procedure, such as breast lift, is included in the surgery.
At the Miami plastic surgery practice of Dr. Ary Krau, all of the following costs are included in the fee estimate.
One Comprehensive Price- The "Out the Door Price"-that includes everything:
The board-certified plastic surgeon's fee
The operating room cost
The anesthesia fee
Lab fees
The cost of the chosen breast implants
Buyer Beware- Don't Shop Your Surgery on Price
When comparing prices of other plastic surgeons or surgery centers, be sure that the quoted price includes everything. It's like buying a car and comparing the MSRP (Sticker price) vs price out the door with all the features, Tax, license and registration. It's important that you know the "out the door price". Often surgery centers will quote an extremely low price that does not include all the pertinent costs in order to draw prospective patients in the door. For instance, they may simply quote the surgeon's fee, omitting the cost of the anesthesiologist. This is a classic case of "bait and switch," given that no patient would have breast augmentation surgery without the use of anesthesia.
Price Is Not the Only Important Factor- ASK for a Warranty on your Breast Augmentation Surgery!
Also, while cost is a vital consideration when choosing a plastic surgeon, it is not the only one. It is equally important that your surgeon is well qualified and has the experience needed to perform your procedure safely and give you the results you desire. If you pay a low price up front, but are unhappy with your results or suffer serious complications and require revision surgery to fix the problems with the initial procedure, you will pay more in the end anyway — and you are putting yourself in danger. Breast augmentation may seem like a straightforward procedure and this is only true if you are in capable and experienced hands. Dr. Ary Krau has performed over 10,000  breast augmentation procedures and  has  honed his technique. Complications may arise but it is how the surgeon addresses and fixes these issues.
Dr. Ary Krau offers a warranty on his Primary Breast Augmentation Surgery

If you are not completely satisfied he will fix it at no extra cost to you within the first year of your breast augmentation surgery. Very few surgeons in the country offer a warranty on breast augmentation surgery.
What should you Look for in a Breast Augmentation Surgeon?
Aside from inquiring about price, make sure that your plastic surgeon:
Is board certified in plastic surgery (by the American Board of Plastic Surgery )
Has performed a plastic surgery residency (which he must do to become board certified)
Has hospital privileges at a local  and reputable medical institution, for your specific procedure
It is an added bonus if your plastic surgeon has undergone fellowship training.  Dr Krau has done a fellowship in aesthetic surgery giving him that much more training. This is advanced training that reflects a surgeon's higher level of commitment to his craft. In addition, always read patient reviews of your plastic surgeon and look at his before-and-after photos of breast augmentation patients.
Helpful, well-respected Patient Review sites you should review when doing your Homework:
Google
Facebook
Ratemds.com
Healthgrades.com
Vitals.com
Realself.com (This site is especially helpful in illustrating how the surgeon interacts with prospective patients to give you a good idea of what his bedside manner is like.)
Finally, choose a plastic surgeon who you feel comfortable with and who gives you confidence in your decision to pursue breast augmentation surgery. In the end, you will be happiest if you do your homework, so you can rest assured that you are in capable hands.
Why do Patients Choose Dr. Ary Krau?
Experience: Practicing in South Florida since 1995 (over 20 years of experience). Dr. Krau has performed over 10,000  breast augmentation procedures and  has  honed his technique.
Training: Graduate of New York University's medical school and fellowship-trained.
Reviews and Patient Satisfaction: Look Around and do your research, Dr Krau has very satisfied patients
Lecturer: Dr. Krau educates other board certified plastic surgeons on tricky breast surgery cases at numerous meetings, including at the most prestigious annual meeting of the American Society for Aesthetic Plastic Surgery (ASAPS).
Industry Leader: One of 35 cosmetic surgeons nationwide invited to join the Mentor LEAD Program Advisory Board, which helps shape the future of cosmetic surgery techniques and products in breast augmentation. (Five-year member.)
Hands-on Approach: Involved with his patients throughout their entire experience.
Natural Talent: Visit our before-and-after photo gallery showing his consistently gorgeous results.
Boutique-Style Practice: Private, intimate, unrushed, personable approach to patient care.
Warm and Friendly Team
To schedule a complementary consultation with Dr. Ary Krau to learn more about breast augmentation surgery, please contact his Miami office by calling (305) 861-6881.